This Industry Viewpoint was authored by Todd Foje, CEO of Great Plains Communications
2021 has been an unpredictable year in many ways, yet the rising demand for broadband that occurred was certainly to be expected. As we enter 2022 and contemplate the key trends we'll see, based upon how essential it has become in our lives, the need for broadband will continue to expand. In fact, offering broadband-for-all in our country —along with everything this effort will encompass —is the direction telecom is moving towards.
Telework and hybrid working arrangements, remote learning, and telehealth services evolved as a result of the pandemic and have benefited the lives of many. But for those without access to high-speed internet, the doors to new services like these and the opportunities they offer remain limited.
 A growing demand for cloud-based services will continue. Connecting to the cloud (whether private, public, hybrid or a multicloud architecture) can be a game-changer as far as the ability to work and compete from anywhere and at any time. But without an adequate internet connection, cloud services are out of reach.
The end result is that more demands are being placed upon the network itself. More capacity at higher speeds is needed, along with the ability to scale that capacity up and down. Of course, network reliability and network security become more critical as well.
Network capacity demands trending upwards
Here's some of our network data at Great Plains Communications that shows how much additional network capacity has been required from the pre-COVID levels of February, 2020 to October, 2021.

2022 trends important to broadband-for-all
Partnering for progress:
A trend important to broadband-for-all that is expected to continue is partnering with policy makers to find ways to deploy services into unserved or underserved areas. This has been proposed by government officials and decision makers in the private sector, but it's going to take time to implement.
Mergers and acquisitions:
In addition, ongoing merger and acquisition activity will continue in 2022 and beyond. Notwithstanding that significant activity has already occurred and there are historically high valuations, there is additional room for quality companies to be acquired and this will continue. Certainly, a lot of investors are interested in supporting M&A.
Fiber broadband, the superhighway to the digital world:
Fiber is the best medium to enable this digital transformation and provide access to telecommunications services from anywhere. Fiber provides symmetrical speeds to support fast and reliable downloads and uploads and supports the rising number of multiple devices riding over business and home networks. This type of reliability and low latency is vital to support today's high bandwidth initiatives including telehealth, working and learning from home and Cloud applications to name a few. Fiber is viewed as the Internet superhighway. It's the carpool lane that's the fastest and most reliable way for digital information to travel.
As demands for more speed and capacity increase, fiber scales well with the ability to make the necessary optical and other network upgrades providing capacity that is theoretically unlimited.
Obstacles often overlooked
One of the things many people don't always consider is that networks are complex and expensive to construct. Everyone would like to have increased speeds and universal availability and many companies are working to achieve this. However, planning, designing and building networks take time and a lot of resources that go beyond monetary funding. Thus, it will take some time for unserved and underserved communities to receive increased speeds and access to improved services.
What else is standing in the way of broadband-for-all?  The same supply chain issues and labor shortages that are affecting sectors everywhere. According to the latest predictions, as well as information from suppliers, we'll see some easing of the supply chain in late 2022, so we probably have at least another year of supply chain issues to manage.
In addition, the shortage of labor that we're currently seeing across industry sectors certainly could affect the future of telecom if it's not addressed properly now. Demographics indicated that our country has an aging population moving out of the workforce, while our younger population isn't growing fast enough to fill the talent gap. Some businesses are attempting to address the worker shortage through automation, but that takes time.
This is an opportunity for our industry and our companies to become promotional and let people know that you can have a tremendous career while continually learning in an important and changing industry. We can support those efforts by partnering with organizations such as technical colleges, university programs, online training platforms and workforce development agencies to provide the background needed for folks to join the telecom workforce.
###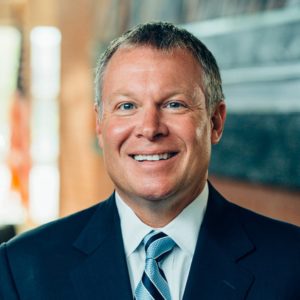 Todd Foje is Chief Executive Officer of Great Plains Communications, as well as CEO of certain affiliates. The company was acquired by Grain Management, a private equity firm based in Washington DC, in October 2018.

A native of Jefferson, Iowa, he now resides in Omaha, Nebraska with his wife and three children. As a certified public accountant and attorney, he has a BSBA degree from Creighton University, a Juris Doctor degree from George Washington University and a Masters of Law in Taxation (LLM) degree from Georgetown University.
If you haven't already, please take our Reader Survey! Just 3 questions to help us better understand who is reading Telecom Ramblings so we can serve you better!
Categories:
Fiber Networks
·
Industry Viewpoint