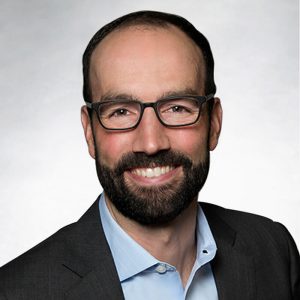 The data center space has evolved rapidly over the last few years, driven by the insatiable appetite from the hyperscale and cloud community.  As a result, new participants have risen up with new ways of building and operating data centers.  One such company is STACK INFRASTRUCTURE.  With us today to talk about STACK's current projects and its approach to the marketplace is the company's Chief Strategy Officer, Matt VanderZanden.
TR: What is your background, and what was your journey to your current role at STACK INFRASTRUCTURE?
MVZ: I actually began my professional career practicing real estate law. I always knew I wanted to do something beyond that, but it was a great way to learn about the nuts and bolts of real estate development. And then, I got involved in data center development on the legal side on behalf of Facebook, which was a great place to learn about the data center business.  Big companies have lots of things going for them but they also tend to push you into a more focused role, and I was interested in kind of spreading out and learning about more pieces of the data center business. The STACK opportunity came along a little over two years ago and seemed like a great opportunity to try new things and learn even more about the business side of data centers than I had in the past. So I made the jump.
TR: What are the origins of STACK, and what does the company's infrastructure look like today?
MVZ: Our investor, IPI, acquired big chunks of T5 Data Centers and Infomart, which comprised performing assets in six different markets here in the US. Then they layered on some additional acquisitions later, and rolled it up under STACK INFRASTRUCTURE. Today we have operating data centers and expansion parcels in what I would consider to be most of the biggest data center markets here in the US: Silicon Valley, Hillsboro, Dallas/Fort Worth, Chicago, New Albany, Atlanta, and Northern Virginia. We also have land in Phoenix. Between all of those, we feel like we're able to offer our clients the flexibility to go to any one of the major markets  here in the US. We are focused for the most part on wholesale data center colocation and build-to-suits for large scale consumers of data.
TR: What types of customers are you seeing the most activity from in the wholesale space at the moment?
MVZ: It depends on your definition of, "at the moment." For the last six months, the world has been affected by COVID-19 pretty dramatically, and that's resulted in a magnification of a trend that already existed: the buyer pool has been narrowing.  Even as the number of megawatts of transactions has continued to go up, the number of buyers really active in the space has been declining.  And I think that because of the economic uncertainty as a result of COVID-19, that buyer pool has narrowed even further to just the hyperscalers plus a few others who are able to continue to invest long term notwithstanding the near-term uncertainty.  But if the definition of "the moment" is more like "three years" , I think that there is still a trend towards fewer buyers of large-scale blocks of wholesale colocation data center, which creates a densification of the deals at the top of the buyer spectrum. That doesn't mean that there aren't still new big buyers out there, such as new content companies' clouds that are experiencing exciting growth.  But certainly, the number of participants in the deals that are forming near the top 85 or 90% of deals is getting fewer over time.
TR: How has the pandemic affected STACK?  And your own job in particular?
MVZ: We are a provider of mission-critical services, and so we have to keep our facilities up 100% of the time. We had to implement thoughtful, quality procedures to optimize both for  uptime  but also onsite team health. That's been an exercise in gathering data and re-optimizing on an ongoing basis, while at the same time providing clear guidance both to clients who want to go and check in on their data center sites and to our own team, to keep them safe and secure. In my own role at STACK, I don't really handle those day-to-day about operations. I think about developing new data centers and new markets, and I haven't been on an airplane in six months — I don't think that's happened since I was maybe 19 years old. It has been a little bit weird to be grounded and not be able to go out and see the parcels of land that we're looking at, or meet with local stakeholders, or interact with utilities or municipalities or state-level officials. Construction timelines have also been somewhat less certain. It has definitely created a new approach to site selection and development, but I think the nice thing, if there is a nice thing on this, is that everybody seems to be constrained in the same way.  Everybody is having to adapt to video conferencing and to  adjust the timelines to provide for some of the uncertainty created by the inability to interact in person.
TR: So how do you now approach such tasks remotely?
MVZ: Imperfectly. We have come to rely even more on the relationships that we have with people in market. While I'm not flying to Northern Virginia, we have partners and team members there and they become our eyes and the ears on the ground, or the people in the room for the discussions or maybe in a socially distant room. For new markets where we don't have somebody like that, technology like drones can solve for some of it.  But there really isn't it a substitute for going out and walking a site with some of the local stakeholders and general contractors or civil engineers in the region. I think we've approached that uniquely, region by region, based on the assets that we do have there. It's kind of a cobbled-together approach but I think it's safe to say we're making it work.
TR: What projects are you working on currently?
MVZ: We are within a couple of months of delivering our first STACK basis-of-design new build in Chicago in Elk Grove Village. We are building a 24MW facility there which we broke ground on in the first part of the year. We've done a lot of development work optimizing existing facilities but that's our first STACK design building, which is very exciting. We also just broke ground on a new 32MW building in San Jose. Both of those projects are immediately adjacent to existing STACK facilities. And then we're maybe six weeks or less from breaking ground on a new facility in Hillsboro, Oregon, which will also be a 24MW new build. We have also been able to acquire some additional land in the key markets of Phoenix, Northern Virginia, and Atlanta over the course of the last six months.
TR: What makes STACK's basis of design different?
MVZ: We want to be expert enough to provide an excellent solution to our clients, but we also want to be flexible enough so that very different users of data centers are able to satisfy their needs via STACK. We spent 12 months iterating both internally and with trusted providers to come up with an approach that balanced speed, low cost of delivery, high resiliency, and enough flexibility that different users would find the STACK space appealing.  We did all of that as a parallel process to the delivery of our Chicago facility, and we've gotten great feedback. People appreciate the large form factor that allows hyperscalers to deliver quickly and stretch out and conform their data center space without having to make changes. We spent a lot of time thinking carefully about it, both with the experienced team at  STACK but also by examining market trends.  We have balanced many different stakeholder perspective on what a great data center looks like and tried to put that together into something appealing, flexible, and somewhat customized.
TR: How does STACK differentiate itself from other data center builders and operators?
MVZ: Part of what makes STACK terrific right now is the 'people process'. We are a small, exciting, very -focused-on-the-client company.  We really care deeply about what our client's challenges are day-to-day and we thinking about how to solve them directly and interpersonally, as quickly as possible. We want to offer a personalized experience for each of our clients as we both grow. We want to solve their problems as quickly as they can find them. We're not just here to sign leases and have tenants. We want to be more integrated into and provide a more delightful client experience. You do that by hiring great people who care a lot about both the business and their client, and you have really good processes for thinking about how to deliver data centers as consistently as seamlessly as possible.
TR: How do you approach the demand for data centers powered by more green or renewable energy?
MVZ: That is an area of intense interest and trying to push towards carbon neutrality or 100% renewable energy within STACK's portfolio is certainly a long-term goal. We're still trying to figure out how exactly to  proceed.  A lot of our target clients already do this for themselves. They have big teams focused on delivering renewable energy.  So one of the ways that we can increase the renewable energy aspects of our data center portfolio is just to get out of the way and let our clients do what they already do best.  That's not everybody, of course, and so we certainly understand what mechanisms are available in each of our markets to enable renewable energy, and we want to have that conversation. But different clients have different perspectives, and even if you think about the biggest hyperscale users of renewable energy, they all have a slightly different approach. The actual mechanism of delivering renewable energy or carbon-free energy may vary pretty dramatically.  It's a balance, and we want to make sure that our approach both is consistent from a values perspective, but also isn't constrained to just one approach while being somehow at odds with the other.
TR: Do you see inorganic opportunities for growth out there in the market right now?
MVZ: The megawatts of growth that we have in our immediate pipeline are built, and I think that expansion through organic construction of new data centers will continue to provide continuous growth opportunities for our clients in those markets.  But especially for entering new, challenging markets, we do really like the opportunity to acquire as a way to get started. I don't see any opportunities for M&A on the immediate horizon, but it's certainly a consideration as we continue to try to grow here in North America.
TR: So what do you see as the biggest challenge ahead for STACK?
MVZ: We need to execute on the exciting opportunities in front of us. We need to complete the builds in Chicago, Silicon Valley and Portland. It's work that the team at STACK has done before at other companies, and so we all know how to do it.  That's not so much a challenge, but more of a threshold to get through this next stage of growth. Beyond that, I think a lot about how we scale.  We have done a lot of awesome things in our first year and a half, and I want to keep the momentum. We have to hire the right  people to help the company grow, and then make sure that they have bought into, are proponents of, and are beneficiaries of STACK culture. How do we make sure that we're staying connected with clients to understand their needs and their challenges as their businesses continue to evolve? We may be in the business of data centers, but we're more in the business of people.
TR: Thank you for talking with Telecom Ramblings!
If you haven't already, please take our Reader Survey! Just 3 questions to help us better understand who is reading Telecom Ramblings so we can serve you better!
Categories:
Datacenter
·
Industry Spotlight