With the reality of the CenturyLink transaction a long ways off yet, Level 3 today announced an Ethernet expansion over in Europe.  Following through on plans announced earlier this year, they have taken their Metro 2.0 Ethernet solution into 15 additional markets, giving them 42 in all where they can offer Carrier Ethernet 2.0 services.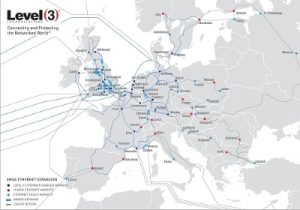 The new markets take Level 3's SDN-powered nextgen Ethernet platform northeast into Scandinavia to the cities of Oslo, Stockholm, Helsinki, and Copenhagen, southeast into the central and eastern Europe markets of Warsaw, Prague, Vienna, Budapest, Bucharest, and Sofia, south through through the Swiss cities of Geneva and Zurich down to the Italian hub of Milan, and southwest into Spain's Madrid and Barcelona.  That gets them to the edges of their European footprint, after which they will be able to steadily fill in the secondary markets throughout the continent as needed.  Next up though is their Asia-Pacific footprint, to which they plan to expand the platform in early 2017.
Level 3 has been pushing into the enterprise markets in Europe, which has been slowed down a bit by the fact that the whole continent has been having a bit of a 'rebuilding decade' economically.  The CenturyLink deal seems to take off the near-term table the one M&A I figured was inevitable for Level 3's European ambitions: a buyout of Colt.  Just what a combined CenturyLink/Level 3 will think about its European prospects is as yet unclear to me.
If you haven't already, please take our Reader Survey! Just 3 questions to help us better understand who is reading Telecom Ramblings so we can serve you better!
Categories:
Ethernet
·
Fiber Networks
·
Internet Backbones