The news over the weekend seems to be that TW Telecom (NASDAQ:TWTC, news, filings) is for sale and that CenturyLink (NYSE:CTL, news, filings) is close to making the deal happen. The rumor is in the Denver Post, but seems to have originated with the DealReporter website. Does it make sense? Yes, it might – but it also might be the simple re-emergence of the same talk we've heard on and off about CenturyLink's plans.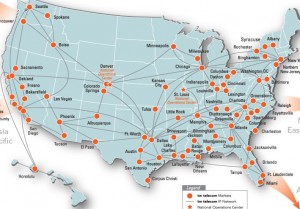 The combination of CenturyLink and tw telecom would certainly have some strategic sense behind it, just as a few years ago it was relatively easy to put together the Qwest longhaul network with tw's metro depth on paper. Qwest's longhaul network was always weak in terms of on/off ramps to its backbone outside of its ILEC footprint and hence its enterprise penetration there was anemic. Both were tw's strengths, while tw lacked the complementary intercity assets and wholesale capabilities. But at the time Qwest just didn't have the firepower to pay the necessary multiple, and tw wasn't aggressive enough to try to buy the longhaul piece from them.
CenturyLink, on the other hand, is a whole different ballgame. If they want to make it happen they can, and they're not afraid of paying a premium if the strategic direction is right. They surprised me by buying Savvis because I felt that Savvis didn't need to sell and therefore could hold out for a big price. But CenturyLink stepped up to the plate to pay $40/share to bring the deal home.
Now with Savvis's cloud/colo infrastructure, Qwest's longhaul, and a clear appetite to make big inroads in the enterprise market, if one asks what CenturyLink would buy next what would it be? Many have said Level 3 would be a target, but it's just not optimal IMHO as the international assets don't fit, the enterprise growth capability is not proven, and the price tag would be very high. But tw telecom, on the other hand, is looking like precisely the right puzzle piece: 20K+ metro route miles with 16,000 on-net buildings, and a finely tuned enterprise-focused business model with room for revenue synergies by selling cloud services to its connectivity/Ethernet/VPN/Voice customer base. And it's fully US domestic, with almost no legacy baggage.
I've always thought tw telecom would do well as a buyer, but they have chosen a very conservative path since the Xspedius purchase back in 2006. They've spent capex aggressively of course, but it has nearly all been for depth – adding nearby buildings to existing loops. They haven't added many metro route miles to their total in that time, nor have they entered any new markets. Just more on-net buildings, and lately at an amazing clip of 2,000 per year.
Yet as a solid, profitable fiber operator that throws off more cash than it is able to spend with capex at 25% of revenues, tw telecom is in a very strong bargaining position as a seller. They recently announced a move on the debt markets, planning to sell $480M in preparation of paying off some convertible debt they can redeem next Spring.  That's not the kind of move one makes if a deal is known to be imminent.  The only real driver for them to sell would be the premium paid above today's stock price.
A public company is always for sale in that sense, so I'm not sure what to make of the DealReporter rumor that negotiations are several weeks old and closing in on a deal. To be honest, I would expect these two (and others) have had such conversations every year for the past five. Is CenturyLink ready for another deal? I had thought next Spring more likely, but perhaps opportunity has knocked.
If you haven't already, please take our Reader Survey! Just 3 questions to help us better understand who is reading Telecom Ramblings so we can serve you better!
Categories:
ILECs, PTTs
·
Mergers and Acquisitions
·
Metro fiber