It sure didn't take much of 2011 for the next volley in the low latency battles to be fired.  This morning, Level 3 Communications (NYSE:LVLT, news, filings) opened a new European front with two new express routes to Madrid.  They are now offering ultra-low-latency routes to the Spanish capital from both London and Frankfurt, as well as improved latency on routes from Chicago and New York to boot.
As always, the target is initially the high frequency traders in the financial sector, who continue to find ways to make money off of a millisecond here and even a few hundred nanoseconds there.  Last month, euNetworks made a similar play with a route to Stockholm, and I wondered if that would be matched directly or in parallel.  Apparently the latter is the case.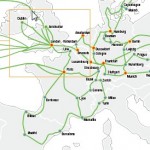 Fiber nuts like me, of course, remember that the fiber Level 3 has to Madrid is leased.  It's not part of their original build, but rather came during an expansion a couple of years ago when they added fiber to bulk up in markets they had expanded to via wavelength initially.  I wonder if that is the fiber they are using, or if they cobbled together new routes from additional fiber leases just for this.  I suspect it is the former case, for now, as the low latency opportunity in Madrid is probably not too well developed yet.  Level 3's metro footprint in London and Frankfurt is their facilitator of course.
I do wonder if the former Tyco Global Network link between Bilbao and the coast of England might come into play at some point, Tata owns that now – though I don't recall what name it goes by now.  Seems like that would be faster than going through France, but maybe it hits too far west.
Now anybody for Milan?  Geneva?  I'll bet Colt Group (LON:COLT, news) puts together something soon.
If you haven't already, please take our Reader Survey! Just 3 questions to help us better understand who is reading Telecom Ramblings so we can serve you better!
Categories:
Internet Backbones
·
Low Latency